Mr. Obama used his weekend address to try and refocus attention away from disastrous foreign policy news and to something that can motivate his base.  Even Democrats are attacking his "hands  off" approach, with Senator Dianne Feinstein calling him "too cautious."  So its only natural that Mr. Obama would like to change the subject.    And par for the course, Mr. Obama reiterated his calls for a higher minimum wage, an old stand by and favorite:
"Raising the minimum wage would be one of the best ways to give a boost to working families. It would help around 28 million Americans from all walks of life pay the bills, provide for their kids, and spend that money at local businesses. And that grows the economy for everyone," the president said. "The bottom line is, America deserves a raise. But until we've got a Congress that cares about raising working folks' wages, it's up to the rest of us to make it happen."
But just as Mr. Obama declaring that ISIS/ISIL was "JV" didn't make it so, neither does his assertion that a minimum wage increase would help make it good economics.  We've talked before about the minimum wage here, so no need to rehash that–let's just consider the pivot to the economy in general.  Is that wise? Perhaps, but a few charts may help us think about the economy under Mr. Obama.
First up, let's look at Labor Force participation rate.  It is true that the unemployment rate has dropped to almost respectable levels–but are those leaving the unemployment roles getting jobs or are they leaving the work force because they are discouraged?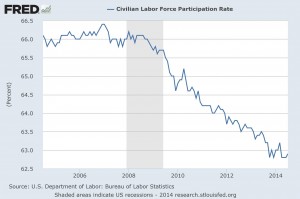 Our LF participation rate has steadily fallen during Mr. Obama's tenure–not a sign of health in a growing population.  Let's also consider what kind of jobs are being created?  If our criticisms of Mr. Obama's policies are true that they discourage full time employment, we'll see an increase in part time jobs…which we do.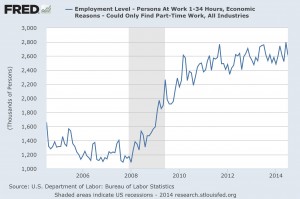 Part of our concern over minimum wage hikes is that they hurt the least skilled workers the most…teenagers and minorities.  So what has happened to employment by young people in the Obama economy?  A picture tells a thousand words.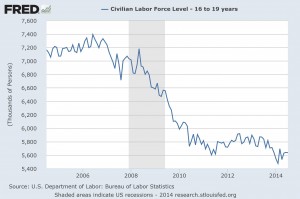 So what are we left with when thinking about Mr. Obama's economy?  Well one thing is for sure left to us–an increase in the national debt of $7 trillion and still rising at a rapid rate.  This year's budget deficit (after Mr. Obama's tax increase) is still greater than any previous administration ever–expected to come in at $506B.  That's right, we're still spending at over a half a trillion dollars of red ink in year six of the administration.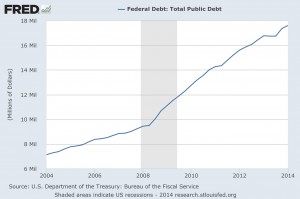 So does thinking about the economy make you feel better?  Only if it allows you to stop thinking about our foreign policy.
Posted in: Economic Recovery, minimum wage, Politics--General, Uncategorized