As reported at the Institute for Faith, Work & Economics website, the New York Times published a very interesting editorial piece: Donald Trump and the Rise of the Moral Minority on September 26th. Using the somewhat surprising fact (to me anyway) that Donald Trump is currently the Republican candidate of choice amongst evangelical voters (Washington Post, Boston Globe), Molly Worthen described a rift in the evangelical voting bloc. The divide is between evangelicals who would support a "moral majority" political strategy and those in favor of a very different approach which might be dubbed the "moral minority". The moral majority strategy emphasizes capturing the United States as an explicitly Christian nation, while the moral minority places more emphasis on the transformative power of the gospel itself and kingdom priorities.
While this divide in the evangelical Church will undoubtably provide a great deal of discussion during this election cycle, I want to say Cedarville University will host two guests on October 13th and 14th who have written a book I think clearly fall into one of the two camps.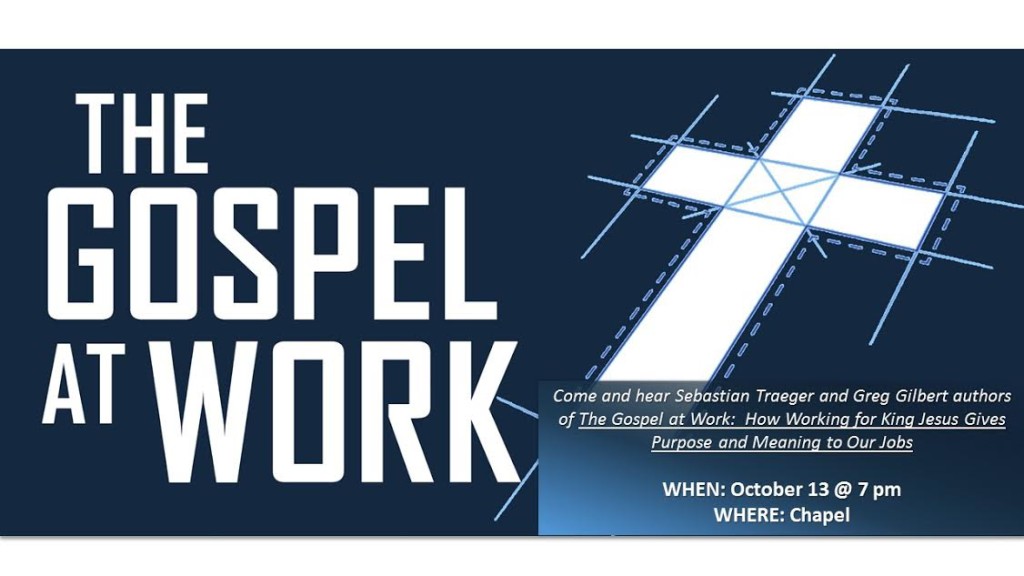 On Tuesday, October 13th Greg Gilbert and on Wednesday, October 14 Sebastian Traeger will speak in Cedarville University's Chapel with their book The Gospel at Work as a platform for their talks. On Tuesday evening at 7 PM in the Dixon Ministry Ctr., Jeremiah Chapel they will both host a question and answer session. I have just read the book and can give it my highest recommendation. Traeger and Gilbert provide practical, theologically sound, gospel grounded advice for living your faith in the workplace in a way that avoids both "idolatry" and "idleness".
I hope you'll be able to hear Traeger and Gilbert discuss the Gospel at Work and determine whether you think what they say in the book is most closely aligned with the "moral majority" or "moral minority".
Posted in: Book Review, Culture, Theological Thinking